TwinDynamics enables businesses to optimise performance and increase efficiency through advanced digital twinning technology. TwinDynamics create the digital twin of dynamic data that receives from the hardware. Devices from the dense infrastructure will send the raw data via gateways to the TwinDynamics engine, where all the triangulations and Advance algorithms works and convert the raw data into powerful business insights.
Any business operation involves assets (men/material/machinery) moving in real-time. However, tapping this last-mile data accurately has been a challenge. Using the TwinDynamics engine, any business operation can tap in to the real-time "dynamic" data to create digital twins in real-time. These digital twins not only create operational efficiencies instantly but also generate deep historical insights to continuously help optimise processes, identify bottlenecks and improve throughput. Whether it's a manufacturing plant, healthcare facility or an office TwinDynamics seamlessly aggregates all kind of dynamic data to create an intelligent real-time digital twin.
ゲートウェイによってインターネットに送信されるデータは、実際にはPlatformと呼ばれる集中管理サーバ群に送信されます。収集されたデータ群はここでが集計・分析・統合され、アプリケーション開発者が利用できる状態に加工されます。
IoTリアルタイム位置情報技術を活用して、Pinmicroのソリューションは正確な位置データ、スポット位置情報、屋内ナビゲーションパスと関連した分析を行います。
私たちが開発した行動分析エンジンは、強力なワークフロールールを作成するためのAIを搭載しており、非常に正確で有益な「気付き」をダッシュボード、レポート、グラフなどの形式で表現します。
上記に加え、BLEハードウェアの機能を活用したAPIエンジンにより、音声起動コマンド、オブジェクト識別、顔認識などの高度な機能群もオプションアイテムとして利用可能になります。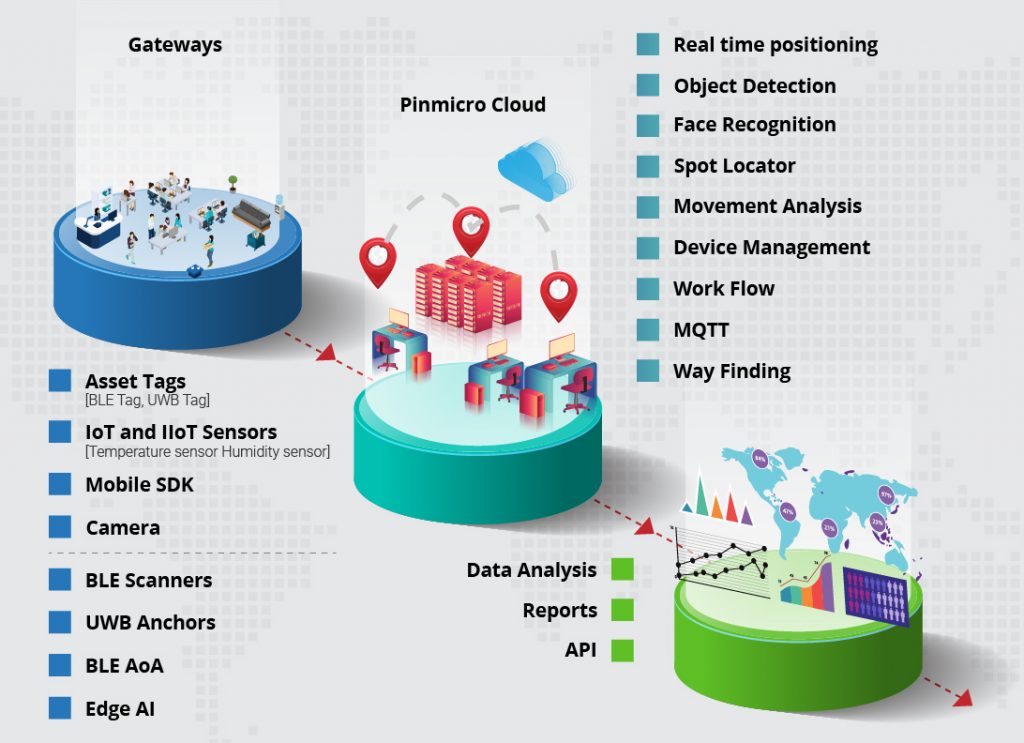 These devices are the face of our solutions. They're strong, come in compact sizes, as thin as a credit card or as even small as a tile that can fit inside the palm of your hand. On top of that, they're water and dust resistant with a built-in battery life of up to four years*.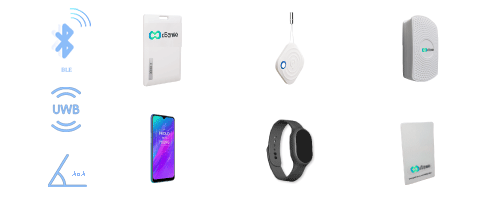 Communication between devices and the internet happens with the help of a gateway. Bluetooth signals from the devices are received by a gateway which is normally called 'Sensor' and they push these data to the internet.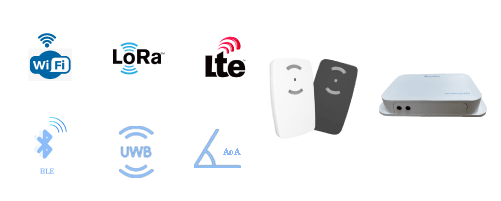 This is the part where data received on the internet is processed by advanced and robustly designed algorithms that intricately assess and analyze every bit of information to give the most accurate results for our solutions to work flawlessly.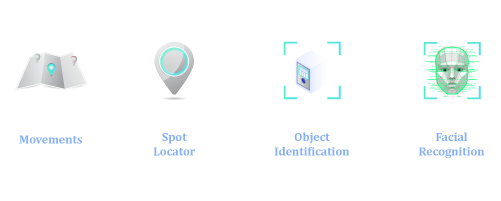 Dynamic data from any business operation needs to be aggregated efficiently and co-related with business data to be able to create digital twins. The dynamic data sources may vary from real-time location data (Beacons,UWB,BLE,WiFi, GPS etc..), telemetrics data (device readings, sensor data etc..), vital health statistics data (pulse, SP02, heart rates etc..)  or environment data (temperature, humidity, vibrations, pressure etc..). The powerful TwinDynamics engine is the heart of the dSense platform that seamlessly aggregates data from various dynamic data sources and enriches them with business data for creating digital twins.
To understand a little more, imagine any business operation (e.g. a hospital, a manufacturing facility or a smart office). Operational activities at the business generates dynamic data. Real-Time Location sensing technologies like BLE/UWB/AoA etc… may bring in workforce location data whereas IoT sensors may being in environment data. By aggregating these two sources for example, ambient temperature can be ensured at any workplace based on real-time workforce density, and this in turn not only maximises employee productivity, but also generates power savings from optimum climate control. However, behind this perceived simple outcome, there are complicated algorithms and processing involved. For e.g. Raw RTLS data has to be process by AI enabled triangulation and trilateralisation modules of TwinDynamics engine to create useful location intelligence and this is just an example of what the TwinDynamics engine enables at enterprise scale.
From the complex processing and data aggregation, TwinDynamics creates meaningful digital twin data from which powerful business insights can be accessed using the dSense platform. In addition, the TwinDynamics RESTful APIs and SDKS provided by the TwinDynamics engine provide easy integration with 3rd part applications that look to leverage the digital twin data. 
See how accurate is TwinDynamics location intelligence !